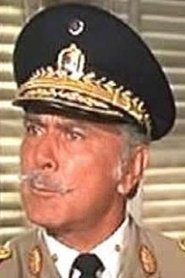 Alberto Morin's filmography and actor connections
Alberto Morin has starred in 142 movies. The 5 most recent movies Alberto Morin was in are listed below.
Next is the list of 4665 actors/actresses that Alberto Morin has worked with spread over 234 pages. The list is sorted by the people Alberto Morin has worked most frequently with. When you find the person you are looking for, click on the link to view a list of movies they have worked in together.
If you decide instead to click on a movie with Alberto Morin, it will display the top billed cast. If the cast members have starred together in other movies; beneath the cast member a list will display.
---
Eugene Borden and Alberto Morin have starred in 21 movies together. Their first film was Café Metropole in 1937. The most recent movie that Eugene Borden and Alberto Morin starred together was Our Man Flint in 1966
Jack Chefe and Alberto Morin have starred in 16 movies together. Their first film was Nobody's Fool in 1936. The most recent movie that Jack Chefe and Alberto Morin starred together was The Buccaneer in 1958
Louis Mercier and Alberto Morin have starred in 15 movies together. Their first film was Café Metropole in 1937. The most recent movie that Louis Mercier and Alberto Morin starred together was An Affair to Remember in 1957
Gino Corrado and Alberto Morin have starred in 15 movies together. Their first film was Café Metropole in 1937. The most recent movie that Gino Corrado and Alberto Morin starred together was Three Coins in the Fountain in 1954
Bess Flowers and Alberto Morin have starred in 14 movies together. Their first film was One in a Million in 1936. The most recent movie that Bess Flowers and Alberto Morin starred together was For Those Who Think Young in 1964
Jean De Briac and Alberto Morin have starred in 13 movies together. Their first film was Café Metropole in 1937. The most recent movie that Jean De Briac and Alberto Morin starred together was The Buccaneer in 1958
Sam Harris and Alberto Morin have starred in 13 movies together. Their first film was Café Metropole in 1937. The most recent movie that Sam Harris and Alberto Morin starred together was The Wings of Eagles in 1957
Harold Miller and Alberto Morin have starred in 13 movies together. Their first film was It's a Wonderful World in 1939. The most recent movie that Harold Miller and Alberto Morin starred together was Anything Goes in 1956
Frank Puglia and Alberto Morin have starred in 12 movies together. Their first film was Mama Steps Out in 1937. The most recent movie that Frank Puglia and Alberto Morin starred together was Serenade in 1956
Jean Del Val and Alberto Morin have starred in 12 movies together. Their first film was City in Darkness in 1939. The most recent movie that Jean Del Val and Alberto Morin starred together was Anything Goes in 1956
Forbes Murray and Alberto Morin have starred in 11 movies together. Their first film was Maytime in 1937. The most recent movie that Forbes Murray and Alberto Morin starred together was Sing Boy Sing in 1958
Martin Garralaga and Alberto Morin have starred in 11 movies together. Their first film was Another Thin Man in 1939. The most recent movie that Martin Garralaga and Alberto Morin starred together was Fun in Acapulco in 1963
Jeffrey Sayre and Alberto Morin have starred in 11 movies together. Their first film was Secret Service of the Air in 1939. The most recent movie that Jeffrey Sayre and Alberto Morin starred together was The Mephisto Waltz in 1971
George Davis and Alberto Morin have starred in 11 movies together. Their first film was Café Metropole in 1937. The most recent movie that George Davis and Alberto Morin starred together was Les Girls in 1957
Alphonse Martell and Alberto Morin have starred in 11 movies together. Their first film was Nobody's Fool in 1936. The most recent movie that Alphonse Martell and Alberto Morin starred together was My Sister Eileen in 1955
Suzanne Ridgeway and Alberto Morin have starred in 10 movies together. Their first film was Gone with the Wind in 1939. The most recent movie that Suzanne Ridgeway and Alberto Morin starred together was Serenade in 1956
Ann Codee and Alberto Morin have starred in 10 movies together. Their first film was Thin Ice in 1937. The most recent movie that Ann Codee and Alberto Morin starred together was The Young Lions in 1958
Kenner G. Kemp and Alberto Morin have starred in 10 movies together. Their first film was The Luck of the Irish in 1948. The most recent movie that Kenner G. Kemp and Alberto Morin starred together was Hellfighters in 1968
Georges Renavent and Alberto Morin have starred in 10 movies together. Their first film was Café Metropole in 1937. The most recent movie that Georges Renavent and Alberto Morin starred together was Fortunes of Captain Blood in 1950
Manuel París and Alberto Morin have starred in 10 movies together. Their first film was Café Metropole in 1937. The most recent movie that Manuel París and Alberto Morin starred together was The Buccaneer in 1958
1 | 2 | 3 | 4 | 5 | 6 | 7 | 8 | 9