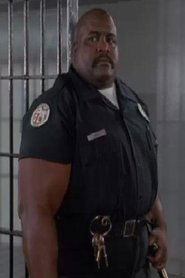 Andre Rosey Brown's filmography and actor connections
Andre Rosey Brown has starred in 35 movies. The 5 most recent movies Andre Rosey Brown was in are listed below.
Next is the list of 1700 actors/actresses that Andre Rosey Brown has worked with spread over 85 pages. The list is sorted by the people Andre Rosey Brown has worked most frequently with. When you find the person you are looking for, click on the link to view a list of movies they have worked in together.
If you decide instead to click on a movie with Andre Rosey Brown, it will display the top billed cast. If the cast members have starred together in other movies; beneath the cast member a list will display.
---
Nils Allen Stewart and Andre Rosey Brown have starred in 6 movies together. Their first film was Fist of the North Star in 1995. The most recent movie that Nils Allen Stewart and Andre Rosey Brown starred together was Perfect Fit in 2001
Clint Howard and Andre Rosey Brown have starred in 4 movies together. Their first film was Tango & Cash in 1989. The most recent movie that Clint Howard and Andre Rosey Brown starred together was Barb Wire in 1996
George 'Buck' Flower and Andre Rosey Brown have starred in 3 movies together. Their first film was Mirror Images in 1992. The most recent movie that George 'Buck' Flower and Andre Rosey Brown starred together was Perfect Fit in 2001
Raye Birk and Andre Rosey Brown have starred in 3 movies together. Their first film was Throw Momma from the Train in 1987. The most recent movie that Raye Birk and Andre Rosey Brown starred together was Naked Gun 33 1/3: The Final Insult in 1994
Randy Vasquez and Andre Rosey Brown have starred in 3 movies together. Their first film was The Demolitionist in 1995. The most recent movie that Randy Vasquez and Andre Rosey Brown starred together was Moonbase in 1997
Billy Maddox and Andre Rosey Brown have starred in 3 movies together. Their first film was The Stranger in 1995. The most recent movie that Billy Maddox and Andre Rosey Brown starred together was Perfect Fit in 2001
Irwin Keyes and Andre Rosey Brown have starred in 2 movies together. Their first film was Il silenzio dei prosciutti in 1994. The most recent movie that Irwin Keyes and Andre Rosey Brown starred together was Perfect Fit in 2001
Glen Chin and Andre Rosey Brown have starred in 2 movies together. Their first film was Who's That Girl in 1987. The most recent movie that Glen Chin and Andre Rosey Brown starred together was Naked Gun 33 1/3: The Final Insult in 1994
Randy Quaid and Andre Rosey Brown have starred in 2 movies together. Their first film was Caddyshack II in 1988. The most recent movie that Randy Quaid and Andre Rosey Brown starred together was Kingpin in 1996
Wilhelm von Homburg and Andre Rosey Brown have starred in 2 movies together. Their first film was Night of the Warrior in 1991. The most recent movie that Wilhelm von Homburg and Andre Rosey Brown starred together was Il silenzio dei prosciutti in 1994
Rowena Guinness and Andre Rosey Brown have starred in 2 movies together. Their first film was Fist of the North Star in 1995. The most recent movie that Rowena Guinness and Andre Rosey Brown starred together was One Good Turn in 1996
Billy Crystal and Andre Rosey Brown have starred in 2 movies together. Their first film was Throw Momma from the Train in 1987. The most recent movie that Billy Crystal and Andre Rosey Brown starred together was Forget Paris in 1995
John Philbin and Andre Rosey Brown have starred in 2 movies together. Their first film was Moonbase in 1997. The most recent movie that John Philbin and Andre Rosey Brown starred together was Perfect Fit in 2001
Marc Alaimo and Andre Rosey Brown have starred in 2 movies together. Their first film was Tango & Cash in 1989. The most recent movie that Marc Alaimo and Andre Rosey Brown starred together was Naked Gun 33 1/3: The Final Insult in 1994
Steven Stabler and Andre Rosey Brown have starred in 2 movies together. Their first film was Driving Me Crazy in 1991. The most recent movie that Steven Stabler and Andre Rosey Brown starred together was Kingpin in 1996
Ken Foree and Andre Rosey Brown have starred in 2 movies together. Their first film was Taking Care of Business in 1990. The most recent movie that Ken Foree and Andre Rosey Brown starred together was Night of the Warrior in 1991
Linda Lutz and Andre Rosey Brown have starred in 2 movies together. Their first film was Il silenzio dei prosciutti in 1994. The most recent movie that Linda Lutz and Andre Rosey Brown starred together was Space Jam in 1996
Faith Minton and Andre Rosey Brown have starred in 2 movies together. Their first film was Who's That Girl in 1987. The most recent movie that Faith Minton and Andre Rosey Brown starred together was The Stranger in 1995
Frank Welker and Andre Rosey Brown have starred in 2 movies together. Their first film was Caddyshack II in 1988. The most recent movie that Frank Welker and Andre Rosey Brown starred together was Space Jam in 1996
Bill Erwin and Andre Rosey Brown have starred in 2 movies together. Their first film was Night of the Warrior in 1991. The most recent movie that Bill Erwin and Andre Rosey Brown starred together was Naked Gun 33 1/3: The Final Insult in 1994
1 | 2 | 3 | 4 | 5 | 6 | 7 | 8 | 9