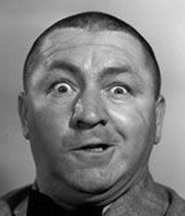 Curly Howard's filmography and actor connections
Curly Howard has starred in 129 movies. The 5 most recent movies Curly Howard was in are listed below.
Next is the list of 1206 actors/actresses that Curly Howard has worked with spread over 61 pages. The list is sorted by the people Curly Howard has worked most frequently with. When you find the person you are looking for, click on the link to view a list of movies they have worked in together.
If you decide instead to click on a movie with Curly Howard, it will display the top billed cast. If the cast members have starred together in other movies; beneath the cast member a list will display.
---
Moe Howard and Curly Howard have starred in 127 movies together. Their first film was Hollywood on Parade in 1932. The most recent movie that Moe Howard and Curly Howard starred together was Stoogemania in 1986
Larry Fine and Curly Howard have starred in 125 movies together. Their first film was Hollywood on Parade in 1932. The most recent movie that Larry Fine and Curly Howard starred together was Stoogemania in 1986
Vernon Dent and Curly Howard have starred in 46 movies together. Their first film was Half Shot Shooters in 1936. The most recent movie that Vernon Dent and Curly Howard starred together was Stoogemania in 1986
Bud Jamison and Curly Howard have starred in 42 movies together. Their first film was Men in Black in 1934. The most recent movie that Bud Jamison and Curly Howard starred together was Stoogemania in 1986
Al Thompson and Curly Howard have starred in 33 movies together. Their first film was Pardon My Scotch in 1935. The most recent movie that Al Thompson and Curly Howard starred together was Stop! Look! and Laugh! in 1960
Eddie Laughton and Curly Howard have starred in 32 movies together. Their first film was Three Little Beers in 1935. The most recent movie that Eddie Laughton and Curly Howard starred together was Beer Barrel Polecats in 1946
John Tyrrell and Curly Howard have starred in 30 movies together. Their first film was Three Little Beers in 1935. The most recent movie that John Tyrrell and Curly Howard starred together was Stop! Look! and Laugh! in 1960
Lew Davis and Curly Howard have starred in 27 movies together. Their first film was The Captain Hates the Sea in 1934. The most recent movie that Lew Davis and Curly Howard starred together was Uncivil War Birds in 1946
Bert Young and Curly Howard have starred in 26 movies together. Their first film was Restless Knights in 1935. The most recent movie that Bert Young and Curly Howard starred together was Even as IOU in 1942
Victor Travers and Curly Howard have starred in 24 movies together. Their first film was Tassels in the Air in 1938. The most recent movie that Victor Travers and Curly Howard starred together was Stop! Look! and Laugh! in 1960
Johnny Kascier and Curly Howard have starred in 24 movies together. Their first film was Three Little Pigskins in 1934. The most recent movie that Johnny Kascier and Curly Howard starred together was Stoogemania in 1986
Cy Schindell and Curly Howard have starred in 23 movies together. Their first film was 3 Dumb Clucks in 1937. The most recent movie that Cy Schindell and Curly Howard starred together was Stoogemania in 1986
Lynton Brent and Curly Howard have starred in 22 movies together. Their first film was Three Little Pigskins in 1934. The most recent movie that Lynton Brent and Curly Howard starred together was The Three Stooges Follies in 1974
Charles Dorety and Curly Howard have starred in 19 movies together. Their first film was Men in Black in 1934. The most recent movie that Charles Dorety and Curly Howard starred together was Dizzy Pilots in 1943
Heinie Conklin and Curly Howard have starred in 17 movies together. Their first film was Fugitive Lovers in 1934. The most recent movie that Heinie Conklin and Curly Howard starred together was Booty and the Beast in 1953
Symona Boniface and Curly Howard have starred in 17 movies together. Their first film was Pardon My Scotch in 1935. The most recent movie that Symona Boniface and Curly Howard starred together was Stop! Look! and Laugh! in 1960
James C. Morton and Curly Howard have starred in 15 movies together. Their first film was Operator 13 in 1934. The most recent movie that James C. Morton and Curly Howard starred together was Stoogemania in 1986
Blackie Whiteford and Curly Howard have starred in 15 movies together. Their first film was The Captain Hates the Sea in 1934. The most recent movie that Blackie Whiteford and Curly Howard starred together was Booty and the Beast in 1953
William Irving and Curly Howard have starred in 14 movies together. Their first film was Punch Drunks in 1934. The most recent movie that William Irving and Curly Howard starred together was A Ducking They Did Go in 1939
Ted Healy and Curly Howard have starred in 13 movies together. Their first film was Hollywood on Parade in 1932. The most recent movie that Ted Healy and Curly Howard starred together was The MGM Three Stooges Festival in 1983
1 | 2 | 3 | 4 | 5 | 6 | 7 | 8 | 9