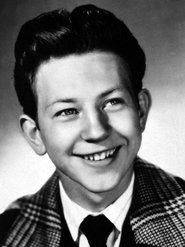 Donald O'Connor's filmography and actor connections
Donald O'Connor has starred in 59 movies. The 5 most recent movies Donald O'Connor was in are listed below.
Next is the list of 2220 actors/actresses that Donald O'Connor has worked with spread over 111 pages. The list is sorted by the people Donald O'Connor has worked most frequently with. When you find the person you are looking for, click on the link to view a list of movies they have worked in together.
If you decide instead to click on a movie with Donald O'Connor, it will display the top billed cast. If the cast members have starred together in other movies; beneath the cast member a list will display.
---
Peggy Ryan and Donald O'Connor have starred in 13 movies together. Their first film was Get Hep to Love in 1942. The most recent movie that Peggy Ryan and Donald O'Connor starred together was Patrick the Great in 1945
Sidney Miller and Donald O'Connor have starred in 8 movies together. Their first film was Get Hep to Love in 1942. The most recent movie that Sidney Miller and Donald O'Connor starred together was Walking My Baby Back Home in 1953
Irving Bacon and Donald O'Connor have starred in 8 movies together. Their first film was Sing, You Sinners in 1938. The most recent movie that Irving Bacon and Donald O'Connor starred together was Patrick the Great in 1945
Bess Flowers and Donald O'Connor have starred in 8 movies together. Their first film was Private Buckaroo in 1942. The most recent movie that Bess Flowers and Donald O'Connor starred together was The Buster Keaton Story in 1957
Sam Harris and Donald O'Connor have starred in 7 movies together. Their first film was On Your Toes in 1939. The most recent movie that Sam Harris and Donald O'Connor starred together was Cry for Happy in 1961
Dorothy Babb and Donald O'Connor have starred in 7 movies together. Their first film was Get Hep to Love in 1942. The most recent movie that Dorothy Babb and Donald O'Connor starred together was Chip Off the Old Block in 1944
Robert Scheerer and Donald O'Connor have starred in 7 movies together. Their first film was Give Out, Sisters in 1942. The most recent movie that Robert Scheerer and Donald O'Connor starred together was Patrick the Great in 1945
Forbes Murray and Donald O'Connor have starred in 7 movies together. Their first film was Francis in 1950. The most recent movie that Forbes Murray and Donald O'Connor starred together was Anything Goes in 1956
Emmett Vogan and Donald O'Connor have starred in 7 movies together. Their first film was Sons of the Legion in 1938. The most recent movie that Emmett Vogan and Donald O'Connor starred together was Patrick the Great in 1945
The Jivin' Jacks and Jills and Donald O'Connor have starred in 7 movies together. Their first film was Get Hep to Love in 1942. The most recent movie that The Jivin' Jacks and Jills and Donald O'Connor starred together was Patrick the Great in 1945
Ralph Brooks and Donald O'Connor have starred in 7 movies together. Their first film was Give Out, Sisters in 1942. The most recent movie that Ralph Brooks and Donald O'Connor starred together was The Buster Keaton Story in 1957
Robert Paige and Donald O'Connor have starred in 6 movies together. Their first film was Melody for Two in 1937. The most recent movie that Robert Paige and Donald O'Connor starred together was Follow the Boys in 1944
Joe Geil and Donald O'Connor have starred in 6 movies together. Their first film was Get Hep to Love in 1942. The most recent movie that Joe Geil and Donald O'Connor starred together was Patrick the Great in 1945
Bert Stevens and Donald O'Connor have starred in 6 movies together. Their first film was Sing, You Sinners in 1938. The most recent movie that Bert Stevens and Donald O'Connor starred together was The Buster Keaton Story in 1957
Harold Miller and Donald O'Connor have starred in 6 movies together. Their first film was Private Buckaroo in 1942. The most recent movie that Harold Miller and Donald O'Connor starred together was Cry for Happy in 1961
William Newell and Donald O'Connor have starred in 6 movies together. Their first film was Sing, You Sinners in 1938. The most recent movie that William Newell and Donald O'Connor starred together was Francis Goes to West Point in 1952
Francis the Talking Mule and Donald O'Connor have starred in 6 movies together. Their first film was Francis in 1950. The most recent movie that Francis the Talking Mule and Donald O'Connor starred together was Francis in the Navy in 1955
Chill Wills and Donald O'Connor have starred in 6 movies together. Their first film was Francis in 1950. The most recent movie that Chill Wills and Donald O'Connor starred together was Francis in the Navy in 1955
Gloria Jean and Donald O'Connor have starred in 6 movies together. Their first film was Get Hep to Love in 1942. The most recent movie that Gloria Jean and Donald O'Connor starred together was Follow the Boys in 1944
Tommy Rall and Donald O'Connor have starred in 6 movies together. Their first film was Get Hep to Love in 1942. The most recent movie that Tommy Rall and Donald O'Connor starred together was It Comes Up Love in 1943
1 | 2 | 3 | 4 | 5 | 6 | 7 | 8 | 9