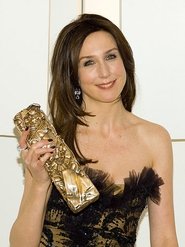 Elsa Zylberstein's filmography and actor connections
Elsa Zylberstein has starred in 61 movies. The 5 most recent movies Elsa Zylberstein was in are listed below.
Next is the list of 1628 actors/actresses that Elsa Zylberstein has worked with spread over 82 pages. The list is sorted by the people Elsa Zylberstein has worked most frequently with. When you find the person you are looking for, click on the link to view a list of movies they have worked in together.
If you decide instead to click on a movie with Elsa Zylberstein, it will display the top billed cast. If the cast members have starred together in other movies; beneath the cast member a list will display.
---
Edith Scob and Elsa Zylberstein have starred in 5 movies together. Their first film was Baptême in 1989. The most recent movie that Edith Scob and Elsa Zylberstein starred together was Gemma Bovery in 2014
Frédéric Pierrot and Elsa Zylberstein have starred in 5 movies together. Their first film was La neige et le feu in 1991. The most recent movie that Frédéric Pierrot and Elsa Zylberstein starred together was Il y a longtemps que je t'aime in 2008
Vincent Perez and Elsa Zylberstein have starred in 5 movies together. Their first film was La neige et le feu in 1991. The most recent movie that Vincent Perez and Elsa Zylberstein starred together was The Price of Desire in 2015
Bernard Le Coq and Elsa Zylberstein have starred in 4 movies together. Their first film was Van Gogh in 1991. The most recent movie that Bernard Le Coq and Elsa Zylberstein starred together was Pourquoi (pas) le Brésil in 2004
Arielle Dombasle and Elsa Zylberstein have starred in 3 movies together. Their first film was Le temps retrouvé, d'après l'oeuvre de Marcel Proust in 1999. The most recent movie that Arielle Dombasle and Elsa Zylberstein starred together was À votre bon coeur mesdames in 2013
Catherine Hiegel and Elsa Zylberstein have starred in 3 movies together. Their first film was L'homme est une femme comme les autres in 1998. The most recent movie that Catherine Hiegel and Elsa Zylberstein starred together was Un baiser papillon in 2011
Jacques Bonnaffé and Elsa Zylberstein have starred in 3 movies together. Their first film was Baptême in 1989. The most recent movie that Jacques Bonnaffé and Elsa Zylberstein starred together was La fabrique des sentiments in 2008
Mostéfa Stiti and Elsa Zylberstein have starred in 3 movies together. Their first film was Là-bas... mon pays in 2000. The most recent movie that Mostéfa Stiti and Elsa Zylberstein starred together was Féroce in 2002
Serge Hazanavicius and Elsa Zylberstein have starred in 3 movies together. Their first film was L'orange amère in 1993. The most recent movie that Serge Hazanavicius and Elsa Zylberstein starred together was Un baiser papillon in 2011
Laurent Malet and Elsa Zylberstein have starred in 3 movies together. Their first film was Combat d'amour en songe in 2000. The most recent movie that Laurent Malet and Elsa Zylberstein starred together was La maison Nucingen in 2008
Rufus Rufus and Elsa Zylberstein have starred in 3 movies together. Their first film was Metroland in 1997. The most recent movie that Rufus Rufus and Elsa Zylberstein starred together was À votre bon coeur mesdames in 2013
Christian Vadim and Elsa Zylberstein have starred in 3 movies together. Their first film was Le temps retrouvé, d'après l'oeuvre de Marcel Proust in 1999. The most recent movie that Christian Vadim and Elsa Zylberstein starred together was Ce jour-là in 2003
Bruno Putzulu and Elsa Zylberstein have starred in 3 movies together. Their first film was Jefferson in Paris in 1995. The most recent movie that Bruno Putzulu and Elsa Zylberstein starred together was La fabrique des sentiments in 2008
Jean-Philippe Écoffey and Elsa Zylberstein have starred in 3 movies together. Their first film was Mina Tannenbaum in 1994. The most recent movie that Jean-Philippe Écoffey and Elsa Zylberstein starred together was Les fantômes de Louba in 2001
Melvil Poupaud and Elsa Zylberstein have starred in 3 movies together. Their first film was Le temps retrouvé, d'après l'oeuvre de Marcel Proust in 1999. The most recent movie that Melvil Poupaud and Elsa Zylberstein starred together was Linhas de Wellington in 2012
Nicolas Silberg and Elsa Zylberstein have starred in 3 movies together. Their first film was Jefferson in Paris in 1995. The most recent movie that Nicolas Silberg and Elsa Zylberstein starred together was Un ange in 2001
Liliane Rovère and Elsa Zylberstein have starred in 3 movies together. Their first film was Un samedi sur la terre in 1996. The most recent movie that Liliane Rovère and Elsa Zylberstein starred together was J'invente rien in 2006
Catherine Deneuve and Elsa Zylberstein have starred in 3 movies together. Their first film was Le temps retrouvé, d'après l'oeuvre de Marcel Proust in 1999. The most recent movie that Catherine Deneuve and Elsa Zylberstein starred together was Linhas de Wellington in 2012
Amira Casar and Elsa Zylberstein have starred in 3 movies together. Their first film was Journées froides qui menacent les plantes in 2005. The most recent movie that Amira Casar and Elsa Zylberstein starred together was Nuit de chien in 2008
Éric Caravaca and Elsa Zylberstein have starred in 3 movies together. Their first film was Un samedi sur la terre in 1996. The most recent movie that Éric Caravaca and Elsa Zylberstein starred together was Nuit de chien in 2008
1 | 2 | 3 | 4 | 5 | 6 | 7 | 8 | 9