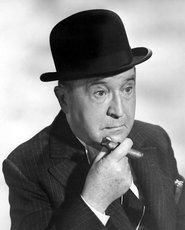 Frank Orth's filmography and actor connections
Frank Orth has starred in 169 movies. The 5 most recent movies Frank Orth was in are listed below.
Next is the list of 3462 actors/actresses that Frank Orth has worked with spread over 174 pages. The list is sorted by the people Frank Orth has worked most frequently with. When you find the person you are looking for, click on the link to view a list of movies they have worked in together.
If you decide instead to click on a movie with Frank Orth, it will display the top billed cast. If the cast members have starred together in other movies; beneath the cast member a list will display.
---
Bess Flowers and Frank Orth have starred in 28 movies together. Their first film was Polo Joe in 1936. The most recent movie that Bess Flowers and Frank Orth starred together was Houdini in 1953
Jack Mower and Frank Orth have starred in 24 movies together. Their first film was Ever Since Eve in 1937. The most recent movie that Jack Mower and Frank Orth starred together was The Magnificent Dope in 1942
Ralph Dunn and Frank Orth have starred in 19 movies together. Their first film was Marry the Girl in 1937. The most recent movie that Ralph Dunn and Frank Orth starred together was Fury at Furnace Creek in 1948
James Flavin and Frank Orth have starred in 19 movies together. Their first film was San Quentin in 1937. The most recent movie that James Flavin and Frank Orth starred together was Hold That Hypnotist in 1957
Eddie Acuff and Frank Orth have starred in 18 movies together. Their first film was Missing Witnesses in 1937. The most recent movie that Eddie Acuff and Frank Orth starred together was Blondie's Secret in 1948
Lee Phelps and Frank Orth have starred in 17 movies together. Their first film was San Quentin in 1937. The most recent movie that Lee Phelps and Frank Orth starred together was Double Dynamite in 1951
Emmett Vogan and Frank Orth have starred in 17 movies together. Their first film was Two Against the World in 1936. The most recent movie that Emmett Vogan and Frank Orth starred together was The Lost Weekend in 1945
William Newell and Frank Orth have starred in 16 movies together. Their first film was The Doctor Takes a Wife in 1940. The most recent movie that William Newell and Frank Orth starred together was Blondie's Secret in 1948
George Chandler and Frank Orth have starred in 16 movies together. Their first film was The Payoff in 1935. The most recent movie that George Chandler and Frank Orth starred together was Double Dynamite in 1951
Harry Strang and Frank Orth have starred in 16 movies together. Their first film was Submarine D-1 in 1937. The most recent movie that Harry Strang and Frank Orth starred together was The Great Rupert in 1950
Milton Kibbee and Frank Orth have starred in 16 movies together. Their first film was The Payoff in 1935. The most recent movie that Milton Kibbee and Frank Orth starred together was The Bride Wore Boots in 1946
James Conaty and Frank Orth have starred in 15 movies together. Their first film was Missing Witnesses in 1937. The most recent movie that James Conaty and Frank Orth starred together was Not as a Stranger in 1955
Stuart Holmes and Frank Orth have starred in 15 movies together. Their first film was Polo Joe in 1936. The most recent movie that Stuart Holmes and Frank Orth starred together was Not as a Stranger in 1955
Ann Codee and Frank Orth have starred in 15 movies together. Their first film was 42nd Street in 1928. The most recent movie that Ann Codee and Frank Orth starred together was It's Great to Be Young in 1946
Harry Hayden and Frank Orth have starred in 15 movies together. Their first film was Two Against the World in 1936. The most recent movie that Harry Hayden and Frank Orth starred together was Double Dynamite in 1951
Larry Steers and Frank Orth have starred in 15 movies together. Their first film was Talent Scout in 1937. The most recent movie that Larry Steers and Frank Orth starred together was Something to Live For in 1952
Paul Panzer and Frank Orth have starred in 15 movies together. Their first film was The Payoff in 1935. The most recent movie that Paul Panzer and Frank Orth starred together was I Was a Criminal in 1945
Cyril Ring and Frank Orth have starred in 14 movies together. Their first film was The Payoff in 1935. The most recent movie that Cyril Ring and Frank Orth starred together was The Strange Love of Martha Ivers in 1946
Charles D. Brown and Frank Orth have starred in 14 movies together. Their first film was Think It Over in 1938. The most recent movie that Charles D. Brown and Frank Orth starred together was The Bride Wore Boots in 1946
Barbara Bedford and Frank Orth have starred in 14 movies together. Their first film was Young Dr. Kildare in 1938. The most recent movie that Barbara Bedford and Frank Orth starred together was Dr. Kildare's Victory in 1942
1 | 2 | 3 | 4 | 5 | 6 | 7 | 8 | 9