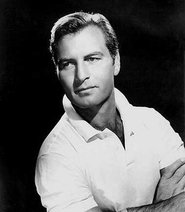 George Montgomery's filmography and actor connections
George Montgomery has starred in 96 movies. The 5 most recent movies George Montgomery was in are listed below.
Next is the list of 1842 actors/actresses that George Montgomery has worked with spread over 93 pages. The list is sorted by the people George Montgomery has worked most frequently with. When you find the person you are looking for, click on the link to view a list of movies they have worked in together.
If you decide instead to click on a movie with George Montgomery, it will display the top billed cast. If the cast members have starred together in other movies; beneath the cast member a list will display.
---
Herman Hack and George Montgomery have starred in 17 movies together. Their first film was Gold Mine in the Sky in 1938. The most recent movie that Herman Hack and George Montgomery starred together was Man from God's Country in 1958
Fred Burns and George Montgomery have starred in 16 movies together. Their first film was Springtime in the Rockies in 1937. The most recent movie that Fred Burns and George Montgomery starred together was Hi-Yo Silver in 1940
Jack Kirk and George Montgomery have starred in 15 movies together. Their first film was Springtime in the Rockies in 1937. The most recent movie that Jack Kirk and George Montgomery starred together was The Night Riders in 1939
Art Dillard and George Montgomery have starred in 14 movies together. Their first film was Springtime in the Rockies in 1937. The most recent movie that Art Dillard and George Montgomery starred together was Hi-Yo Silver in 1940
Lynne Roberts and George Montgomery have starred in 13 movies together. Their first film was Billy the Kid Returns in 1938. The most recent movie that Lynne Roberts and George Montgomery starred together was Last of the Duanes in 1941
Roy Rogers and George Montgomery have starred in 13 movies together. Their first film was Billy the Kid Returns in 1938. The most recent movie that Roy Rogers and George Montgomery starred together was Screen Snapshots: Hollywood Small Fry in 1956
Jim Corey and George Montgomery have starred in 13 movies together. Their first film was Springtime in the Rockies in 1937. The most recent movie that Jim Corey and George Montgomery starred together was Frontier Pony Express in 1939
Frankie Marvin and George Montgomery have starred in 13 movies together. Their first film was The Singing Vagabond in 1935. The most recent movie that Frankie Marvin and George Montgomery starred together was Hi-Yo Silver in 1940
Jack Tornek and George Montgomery have starred in 12 movies together. Their first film was In Old Monterey in 1939. The most recent movie that Jack Tornek and George Montgomery starred together was Hostile Guns in 1967
Jack Ingram and George Montgomery have starred in 12 movies together. Their first film was The Singing Vagabond in 1935. The most recent movie that Jack Ingram and George Montgomery starred together was Hi-Yo Silver in 1940
Lane Chandler and George Montgomery have starred in 11 movies together. Their first film was Hawk of the Wilderness in 1938. The most recent movie that Lane Chandler and George Montgomery starred together was Canyon River in 1956
Frank Ellis and George Montgomery have starred in 11 movies together. Their first film was The Singing Vagabond in 1935. The most recent movie that Frank Ellis and George Montgomery starred together was Man from God's Country in 1958
Curley Dresden and George Montgomery have starred in 10 movies together. Their first film was Outlaws of Sonora in 1938. The most recent movie that Curley Dresden and George Montgomery starred together was Hi-Yo Silver in 1940
Trigger Trigger and George Montgomery have starred in 10 movies together. Their first film was Billy the Kid Returns in 1938. The most recent movie that Trigger Trigger and George Montgomery starred together was Frontier Pony Express in 1939
Bob Burns and George Montgomery have starred in 10 movies together. Their first film was The Singing Vagabond in 1935. The most recent movie that Bob Burns and George Montgomery starred together was The Texas Rangers in 1951
Tom Smith and George Montgomery have starred in 10 movies together. Their first film was The Singing Vagabond in 1935. The most recent movie that Tom Smith and George Montgomery starred together was In Old Caliente in 1939
Ethan Laidlaw and George Montgomery have starred in 10 movies together. Their first film was Man of Conquest in 1939. The most recent movie that Ethan Laidlaw and George Montgomery starred together was Canyon River in 1956
Harry Strang and George Montgomery have starred in 10 movies together. Their first film was Army Girl in 1938. The most recent movie that Harry Strang and George Montgomery starred together was The Toughest Gun in Tombstone in 1958
Frank O'Connor and George Montgomery have starred in 9 movies together. Their first film was Billy the Kid Returns in 1938. The most recent movie that Frank O'Connor and George Montgomery starred together was Cripple Creek in 1952
Al Taylor and George Montgomery have starred in 9 movies together. Their first film was Billy the Kid Returns in 1938. The most recent movie that Al Taylor and George Montgomery starred together was Frontier Pony Express in 1939
1 | 2 | 3 | 4 | 5 | 6 | 7 | 8 | 9