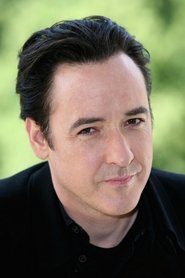 John Cusack's filmography and actor connections
John Cusack has starred in 77 movies. The 5 most recent movies John Cusack was in are listed below.
Next is the list of 3885 actors/actresses that John Cusack has worked with spread over 195 pages. The list is sorted by the people John Cusack has worked most frequently with. When you find the person you are looking for, click on the link to view a list of movies they have worked in together.
If you decide instead to click on a movie with John Cusack, it will display the top billed cast. If the cast members have starred together in other movies; beneath the cast member a list will display.
---
Ned Bellamy and John Cusack have starred in 11 movies together. Their first film was Bob Roberts in 1992. The most recent movie that Ned Bellamy and John Cusack starred together was Tian jiang xiong shi in 2015
Joan Cusack and John Cusack have starred in 10 movies together. Their first film was Class in 1983. The most recent movie that Joan Cusack and John Cusack starred together was War, Inc. in 2008
Jeremy Piven and John Cusack have starred in 10 movies together. Their first film was One Crazy Summer in 1986. The most recent movie that Jeremy Piven and John Cusack starred together was Runaway Jury in 2003
Tim Robbins and John Cusack have starred in 6 movies together. Their first film was The Sure Thing in 1985. The most recent movie that Tim Robbins and John Cusack starred together was High Fidelity in 2000
Doug Dearth and John Cusack have starred in 5 movies together. Their first film was Con Air in 1997. The most recent movie that Doug Dearth and John Cusack starred together was War, Inc. in 2008
Hank Azaria and John Cusack have starred in 4 movies together. Their first film was Anastasia in 1997. The most recent movie that Hank Azaria and John Cusack starred together was America's Sweethearts in 2001
Brian Powell and John Cusack have starred in 4 movies together. Their first film was Bob Roberts in 1992. The most recent movie that Brian Powell and John Cusack starred together was High Fidelity in 2000
Bill Cusack and John Cusack have starred in 4 movies together. Their first film was Elvis Stories in 1989. The most recent movie that Bill Cusack and John Cusack starred together was War, Inc. in 2008
Gregory Sporleder and John Cusack have starred in 4 movies together. Their first film was Say Anything... in 1989. The most recent movie that Gregory Sporleder and John Cusack starred together was Being John Malkovich in 1999
Lee Arenberg and John Cusack have starred in 4 movies together. Their first film was Tapeheads in 1988. The most recent movie that Lee Arenberg and John Cusack starred together was Cradle Will Rock in 1999
John Malkovich and John Cusack have starred in 4 movies together. Their first film was Shadows and Fog in 1991. The most recent movie that John Malkovich and John Cusack starred together was Adaptation. in 2002
Ed Pansullo and John Cusack have starred in 4 movies together. Their first film was Tapeheads in 1988. The most recent movie that Ed Pansullo and John Cusack starred together was Floundering in 1994
Steve Pink and John Cusack have starred in 4 movies together. Their first film was The Sure Thing in 1985. The most recent movie that Steve Pink and John Cusack starred together was America's Sweethearts in 2001
Don Harvey and John Cusack have starred in 3 movies together. Their first film was Eight Men Out in 1988. The most recent movie that Don Harvey and John Cusack starred together was The Prince in 2014
Colm Meaney and John Cusack have starred in 3 movies together. Their first film was The Road to Wellville in 1994. The most recent movie that Colm Meaney and John Cusack starred together was This Is My Father in 1998
John Marshall Jones and John Cusack have starred in 3 movies together. Their first film was Tapeheads in 1988. The most recent movie that John Marshall Jones and John Cusack starred together was Con Air in 1997
Billy Bob Thornton and John Cusack have starred in 3 movies together. Their first film was Floundering in 1994. The most recent movie that Billy Bob Thornton and John Cusack starred together was The Ice Harvest in 2005
Ebbe Roe Smith and John Cusack have starred in 3 movies together. Their first film was Tapeheads in 1988. The most recent movie that Ebbe Roe Smith and John Cusack starred together was Floundering in 1994
Ann Cusack and John Cusack have starred in 3 movies together. Their first film was Grosse Pointe Blank in 1997. The most recent movie that Ann Cusack and John Cusack starred together was America's Sweethearts in 2001
Samuel L. Jackson and John Cusack have starred in 3 movies together. Their first film was 1408 in 2007. The most recent movie that Samuel L. Jackson and John Cusack starred together was Cell in 2016
1 | 2 | 3 | 4 | 5 | 6 | 7 | 8 | 9