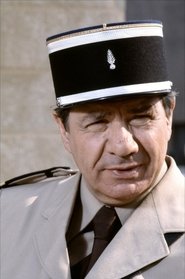 Michel Galabru's filmography and actor connections
Michel Galabru has starred in 216 movies. The 5 most recent movies Michel Galabru was in are listed below.
Next is the list of 4343 actors/actresses that Michel Galabru has worked with spread over 218 pages. The list is sorted by the people Michel Galabru has worked most frequently with. When you find the person you are looking for, click on the link to view a list of movies they have worked in together.
If you decide instead to click on a movie with Michel Galabru, it will display the top billed cast. If the cast members have starred together in other movies; beneath the cast member a list will display.
---
Paul Préboist and Michel Galabru have starred in 27 movies together. Their first film was Les affreux in 1959. The most recent movie that Paul Préboist and Michel Galabru starred together was La folle journée ou Le mariage de Figaro in 1989
Dominique Zardi and Michel Galabru have starred in 20 movies together. Their first film was La bande à Bobo in 1963. The most recent movie that Dominique Zardi and Michel Galabru starred together was Le dénommé (Oublie que tu es un homme) in 1990
Michel Serrault and Michel Galabru have starred in 20 movies together. Their first film was Nous irons à Deauville in 1962. The most recent movie that Michel Serrault and Michel Galabru starred together was Antonio Vivaldi, un prince à Venise in 2006
Jean Carmet and Michel Galabru have starred in 19 movies together. Their first film was Dernière heure, édition spéciale in 1949. The most recent movie that Jean Carmet and Michel Galabru starred together was L'invité surprise in 1989
Darry Cowl and Michel Galabru have starred in 19 movies together. Their first film was L'increvable in 1959. The most recent movie that Darry Cowl and Michel Galabru starred together was Suivez mon regard in 1986
Jean Lefebvre and Michel Galabru have starred in 17 movies together. Their first film was Le gendarme de Saint-Tropez in 1964. The most recent movie that Jean Lefebvre and Michel Galabru starred together was La folle journée ou Le mariage de Figaro in 1989
Francis Blanche and Michel Galabru have starred in 17 movies together. Their first film was L'increvable in 1959. The most recent movie that Francis Blanche and Michel Galabru starred together was Un linceul n'a pas de poches in 1974
Max Montavon and Michel Galabru have starred in 16 movies together. Their first film was Clémentine chérie in 1964. The most recent movie that Max Montavon and Michel Galabru starred together was On l'appelle Catastrophe in 1983
Roger Carel and Michel Galabru have starred in 14 movies together. Their first film was Et qu'ça saute! in 1970. The most recent movie that Roger Carel and Michel Galabru starred together was Mon homme in 1996
Philippe Castelli and Michel Galabru have starred in 14 movies together. Their first film was Les enquiquineurs in 1965. The most recent movie that Philippe Castelli and Michel Galabru starred together was On s'en fout... nous on s'aime in 1982
Daniel Ceccaldi and Michel Galabru have starred in 13 movies together. Their first film was Amours célèbres in 1961. The most recent movie that Daniel Ceccaldi and Michel Galabru starred together was Le braconnier de Dieu in 1983
André Badin and Michel Galabru have starred in 13 movies together. Their first film was Clémentine chérie in 1964. The most recent movie that André Badin and Michel Galabru starred together was Le gendarme et les extra-terrestres in 1979
Jacques Préboist and Michel Galabru have starred in 13 movies together. Their first film was Les gorilles in 1964. The most recent movie that Jacques Préboist and Michel Galabru starred together was Le braconnier de Dieu in 1983
Bernard Musson and Michel Galabru have starred in 12 movies together. Their first film was Amours célèbres in 1961. The most recent movie that Bernard Musson and Michel Galabru starred together was L'invité surprise in 1989
Yves Barsacq and Michel Galabru have starred in 12 movies together. Their first film was Du rififi chez les femmes in 1959. The most recent movie that Yves Barsacq and Michel Galabru starred together was L'horoscope in 1978
Michel Modo and Michel Galabru have starred in 12 movies together. Their first film was Le gendarme de Saint-Tropez in 1964. The most recent movie that Michel Modo and Michel Galabru starred together was Le braconnier de Dieu in 1983
Guy Grosso and Michel Galabru have starred in 12 movies together. Their first film was Le gendarme de Saint-Tropez in 1964. The most recent movie that Guy Grosso and Michel Galabru starred together was Le gendarme et les gendarmettes in 1982
Carlo Nell and Michel Galabru have starred in 12 movies together. Their first film was Les gorilles in 1964. The most recent movie that Carlo Nell and Michel Galabru starred together was Le facteur de Saint-Tropez in 1985
Robert Rollis and Michel Galabru have starred in 11 movies together. Their first film was Suivez-moi jeune homme in 1958. The most recent movie that Robert Rollis and Michel Galabru starred together was Le braconnier de Dieu in 1983
Gérard Depardieu and Michel Galabru have starred in 11 movies together. Their first film was Le viager in 1972. The most recent movie that Gérard Depardieu and Michel Galabru starred together was Les invincibles in 2013
1 | 2 | 3 | 4 | 5 | 6 | 7 | 8 | 9