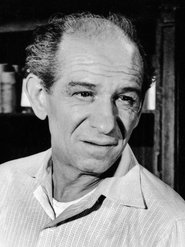 Ned Glass's filmography and actor connections
Ned Glass has starred in 87 movies. The 5 most recent movies Ned Glass was in are listed below.
Next is the list of 2644 actors/actresses that Ned Glass has worked with spread over 133 pages. The list is sorted by the people Ned Glass has worked most frequently with. When you find the person you are looking for, click on the link to view a list of movies they have worked in together.
If you decide instead to click on a movie with Ned Glass, it will display the top billed cast. If the cast members have starred together in other movies; beneath the cast member a list will display.
---
Harold Miller and Ned Glass have starred in 11 movies together. Their first film was The Great Jewel Robber in 1950. The most recent movie that Harold Miller and Ned Glass starred together was The Joker Is Wild in 1957
Kenner G. Kemp and Ned Glass have starred in 10 movies together. Their first film was True Confession in 1937. The most recent movie that Kenner G. Kemp and Ned Glass starred together was Never a Dull Moment in 1968
John Tyrrell and Ned Glass have starred in 9 movies together. Their first film was Coast Guard in 1939. The most recent movie that John Tyrrell and Ned Glass starred together was How Spry I Am in 1942
Bess Flowers and Ned Glass have starred in 9 movies together. Their first film was The Damned Don't Cry in 1950. The most recent movie that Bess Flowers and Ned Glass starred together was Who's Got the Action? in 1962
Don Beddoe and Ned Glass have starred in 9 movies together. Their first film was Coast Guard in 1939. The most recent movie that Don Beddoe and Ned Glass starred together was Papa's Delicate Condition in 1963
Mike Lally and Ned Glass have starred in 8 movies together. Their first film was Perfect Strangers in 1950. The most recent movie that Mike Lally and Ned Glass starred together was Kid Galahad in 1962
Moe Howard and Ned Glass have starred in 8 movies together. Their first film was Three Little Sew and Sews in 1939. The most recent movie that Moe Howard and Ned Glass starred together was Flagpole Jitters in 1956
Lynton Brent and Ned Glass have starred in 8 movies together. Their first film was Dick Tracy Returns in 1938. The most recent movie that Lynton Brent and Ned Glass starred together was Glove Birds in 1942
Larry Fine and Ned Glass have starred in 8 movies together. Their first film was Three Little Sew and Sews in 1939. The most recent movie that Larry Fine and Ned Glass starred together was Flagpole Jitters in 1956
Jeffrey Sayre and Ned Glass have starred in 8 movies together. Their first film was Callaway Went Thataway in 1951. The most recent movie that Jeffrey Sayre and Ned Glass starred together was Save the Tiger in 1973
Cy Schindell and Ned Glass have starred in 8 movies together. Their first film was Mooching Through Georgia in 1939. The most recent movie that Cy Schindell and Ned Glass starred together was Glove Birds in 1942
William H. O'Brien and Ned Glass have starred in 7 movies together. Their first film was The Damned Don't Cry in 1950. The most recent movie that William H. O'Brien and Ned Glass starred together was Papa's Delicate Condition in 1963
Richard Fiske and Ned Glass have starred in 7 movies together. Their first film was Pest from the West in 1939. The most recent movie that Richard Fiske and Ned Glass starred together was Go West, Young Lady in 1941
Sam Harris and Ned Glass have starred in 7 movies together. Their first film was The Great Jewel Robber in 1950. The most recent movie that Sam Harris and Ned Glass starred together was Papa's Delicate Condition in 1963
Vernon Dent and Ned Glass have starred in 7 movies together. Their first film was Three Little Sew and Sews in 1939. The most recent movie that Vernon Dent and Ned Glass starred together was Flagpole Jitters in 1956
Al Thompson and Ned Glass have starred in 7 movies together. Their first film was Three Little Sew and Sews in 1939. The most recent movie that Al Thompson and Ned Glass starred together was The Caddy in 1953
Charles Sherlock and Ned Glass have starred in 7 movies together. Their first film was True Confession in 1937. The most recent movie that Charles Sherlock and Ned Glass starred together was Kid Galahad in 1962
Len Hendry and Ned Glass have starred in 7 movies together. Their first film was Storm Warning in 1951. The most recent movie that Len Hendry and Ned Glass starred together was Who's Got the Action? in 1962
Ralph Montgomery and Ned Glass have starred in 6 movies together. Their first film was Mystery Street in 1950. The most recent movie that Ralph Montgomery and Ned Glass starred together was Blackbeard's Ghost in 1968
Charles Dorety and Ned Glass have starred in 6 movies together. Their first film was Pest from the West in 1939. The most recent movie that Charles Dorety and Ned Glass starred together was From Nurse to Worse in 1940
1 | 2 | 3 | 4 | 5 | 6 | 7 | 8 | 9