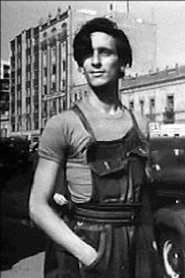 Roberto Cobo's filmography and actor connections
Roberto Cobo has starred in 95 movies. The 5 most recent movies Roberto Cobo was in are listed below.
Next is the list of 1239 actors/actresses that Roberto Cobo has worked with spread over 62 pages. The list is sorted by the people Roberto Cobo has worked most frequently with. When you find the person you are looking for, click on the link to view a list of movies they have worked in together.
If you decide instead to click on a movie with Roberto Cobo, it will display the top billed cast. If the cast members have starred together in other movies; beneath the cast member a list will display.
---
Humberto Rodríguez and Roberto Cobo have starred in 11 movies together. Their first film was Dueña y señora in 1948. The most recent movie that Humberto Rodríguez and Roberto Cobo starred together was Pompeyo el conquistador in 1953
Hernán Vera and Roberto Cobo have starred in 9 movies together. Their first film was El secreto de Juan Palomo in 1947. The most recent movie that Hernán Vera and Roberto Cobo starred together was Póker de ases in 1952
Manuel Ojeda and Roberto Cobo have starred in 9 movies together. Their first film was Pedro Páramo in 1978. The most recent movie that Manuel Ojeda and Roberto Cobo starred together was Entre la tarde y la noche in 2000
Cecilia Leger and Roberto Cobo have starred in 8 movies together. Their first film was El baño de Afrodita in 1949. The most recent movie that Cecilia Leger and Roberto Cobo starred together was Las apariencias engañan in 1983
Armando Velasco and Roberto Cobo have starred in 7 movies together. Their first film was Dueña y señora in 1948. The most recent movie that Armando Velasco and Roberto Cobo starred together was Al compás del rock and roll in 1957
Ana Ofelia Murguía and Roberto Cobo have starred in 7 movies together. Their first film was El águila descalza in 1971. The most recent movie that Ana Ofelia Murguía and Roberto Cobo starred together was De noche vienes, Esmeralda in 1997
Victorio Blanco and Roberto Cobo have starred in 7 movies together. Their first film was El baño de Afrodita in 1949. The most recent movie that Victorio Blanco and Roberto Cobo starred together was El águila descalza in 1971
Roberto 'Flaco' Guzmán and Roberto Cobo have starred in 7 movies together. Their first film was A paso de cojo in 1980. The most recent movie that Roberto 'Flaco' Guzmán and Roberto Cobo starred together was Aprendiz de policia in 1995
Carmen Salinas and Roberto Cobo have starred in 6 movies together. Their first film was El lugar sin límites in 1978. The most recent movie that Carmen Salinas and Roberto Cobo starred together was Pancho cachuchas in 1989
Jorge Mondragón and Roberto Cobo have starred in 6 movies together. Their first film was El secreto de Juan Palomo in 1947. The most recent movie that Jorge Mondragón and Roberto Cobo starred together was Al compás del rock and roll in 1957
Lidia Franco and Roberto Cobo have starred in 6 movies together. Their first film was La casa colorada in 1947. The most recent movie that Lidia Franco and Roberto Cobo starred together was Se alquila marido in 1961
Pedro Armendáriz Jr. and Roberto Cobo have starred in 6 movies together. Their first film was Cadena perpetua in 1979. The most recent movie that Pedro Armendáriz Jr. and Roberto Cobo starred together was De noche vienes, Esmeralda in 1997
Pascual García Peña and Roberto Cobo have starred in 6 movies together. Their first film was La sin ventura in 1948. The most recent movie that Pascual García Peña and Roberto Cobo starred together was La casa de los espantos in 1963
Daniel Arroyo and Roberto Cobo have starred in 6 movies together. Their first film was La niña de mis ojos in 1947. The most recent movie that Daniel Arroyo and Roberto Cobo starred together was Se alquila marido in 1961
Lupe Carriles and Roberto Cobo have starred in 6 movies together. Their first film was Los olvidados in 1950. The most recent movie that Lupe Carriles and Roberto Cobo starred together was Los enredos de una gallega in 1951
Fernando Soto and Roberto Cobo have starred in 6 movies together. Their first film was El diablo no es tan diablo in 1949. The most recent movie that Fernando Soto and Roberto Cobo starred together was La casa de los espantos in 1963
Nicolás Rodríguez and Roberto Cobo have starred in 5 movies together. Their first film was El secreto de Juan Palomo in 1947. The most recent movie that Nicolás Rodríguez and Roberto Cobo starred together was Póker de ases in 1952
José Muñoz and Roberto Cobo have starred in 5 movies together. Their first film was Dos almas en el mundo in 1949. The most recent movie that José Muñoz and Roberto Cobo starred together was Póker de ases in 1952
Ernesto Gómez Cruz and Roberto Cobo have starred in 5 movies together. Their first film was El águila descalza in 1971. The most recent movie that Ernesto Gómez Cruz and Roberto Cobo starred together was Historias violentas in 1985
Lilia Prado and Roberto Cobo have starred in 5 movies together. Their first film was Dueña y señora in 1948. The most recent movie that Lilia Prado and Roberto Cobo starred together was Subida al cielo in 1952
1 | 2 | 3 | 4 | 5 | 6 | 7 | 8 | 9