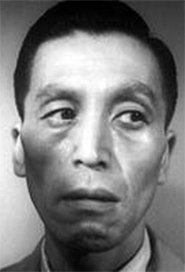 Seiji Miyaguchi's filmography and actor connections
Seiji Miyaguchi has starred in 93 movies. The 5 most recent movies Seiji Miyaguchi was in are listed below.
Next is the list of 1154 actors/actresses that Seiji Miyaguchi has worked with spread over 58 pages. The list is sorted by the people Seiji Miyaguchi has worked most frequently with. When you find the person you are looking for, click on the link to view a list of movies they have worked in together.
If you decide instead to click on a movie with Seiji Miyaguchi, it will display the top billed cast. If the cast members have starred together in other movies; beneath the cast member a list will display.
---
Nobuo Nakamura and Seiji Miyaguchi have starred in 20 movies together. Their first film was Urashima Tarô no kôei in 1946. The most recent movie that Nobuo Nakamura and Seiji Miyaguchi starred together was Gekido no showashi 'Gunbatsu' in 1970
Haruko Sugimura and Seiji Miyaguchi have starred in 16 movies together. Their first film was Urashima Tarô no kôei in 1946. The most recent movie that Haruko Sugimura and Seiji Miyaguchi starred together was Kaseki in 1975
Chishû Ryû and Seiji Miyaguchi have starred in 14 movies together. Their first film was Bakushû in 1951. The most recent movie that Chishû Ryû and Seiji Miyaguchi starred together was Otoko wa tsurai yo: Torajiro koiyatsure in 1974
Takashi Shimura and Seiji Miyaguchi have starred in 14 movies together. Their first film was Ikiru in 1952. The most recent movie that Takashi Shimura and Seiji Miyaguchi starred together was Gekido no showashi 'Gunbatsu' in 1970
Eijirô Tôno and Seiji Miyaguchi have starred in 14 movies together. Their first film was Shichinin no samurai in 1954. The most recent movie that Eijirô Tôno and Seiji Miyaguchi starred together was Kawaita hana in 1964
Sachio Sakai and Seiji Miyaguchi have starred in 13 movies together. Their first film was Ikiru in 1952. The most recent movie that Sachio Sakai and Seiji Miyaguchi starred together was Gekido no showashi 'Gunbatsu' in 1970
Toshirô Mifune and Seiji Miyaguchi have starred in 12 movies together. Their first film was Hoyo in 1953. The most recent movie that Toshirô Mifune and Seiji Miyaguchi starred together was The Challenge in 1982
Yutaka Sada and Seiji Miyaguchi have starred in 12 movies together. Their first film was Kyatsu o nigasuna in 1956. The most recent movie that Yutaka Sada and Seiji Miyaguchi starred together was Gekido no showashi 'Gunbatsu' in 1970
Ken Mitsuda and Seiji Miyaguchi have starred in 12 movies together. Their first film was Urashima Tarô no kôei in 1946. The most recent movie that Ken Mitsuda and Seiji Miyaguchi starred together was Akujo in 1964
Daisuke Katô and Seiji Miyaguchi have starred in 10 movies together. Their first film was Ikiru in 1952. The most recent movie that Daisuke Katô and Seiji Miyaguchi starred together was Rengô kantai shirei chôkan: Yamamoto Isoroku in 1968
Tatsuya Nakadai and Seiji Miyaguchi have starred in 10 movies together. Their first film was Shichinin no samurai in 1954. The most recent movie that Tatsuya Nakadai and Seiji Miyaguchi starred together was Rengô kantai shirei chôkan: Yamamoto Isoroku in 1968
Kamatari Fujiwara and Seiji Miyaguchi have starred in 9 movies together. Their first film was Ikiru in 1952. The most recent movie that Kamatari Fujiwara and Seiji Miyaguchi starred together was Shachô hanjôki in 1968
Rentarô Mikuni and Seiji Miyaguchi have starred in 9 movies together. Their first film was Inochi uruwashi in 1951. The most recent movie that Rentarô Mikuni and Seiji Miyaguchi starred together was Kaidan in 1964
Chieko Nakakita and Seiji Miyaguchi have starred in 9 movies together. Their first film was Izumi e no michi in 1955. The most recent movie that Chieko Nakakita and Seiji Miyaguchi starred together was 'Minagoroshi no uta' yori kenjû-yo saraba! in 1960
Kazuo Kitamura and Seiji Miyaguchi have starred in 9 movies together. Their first film was Nigorie in 1953. The most recent movie that Kazuo Kitamura and Seiji Miyaguchi starred together was Maboroshi no mizuumi in 1982
Yoshio Tsuchiya and Seiji Miyaguchi have starred in 9 movies together. Their first film was Shichinin no samurai in 1954. The most recent movie that Yoshio Tsuchiya and Seiji Miyaguchi starred together was Gekido no showashi 'Gunbatsu' in 1970
Jun Hamamura and Seiji Miyaguchi have starred in 8 movies together. Their first film was Aitsu to watashi in 1961. The most recent movie that Jun Hamamura and Seiji Miyaguchi starred together was Nihon no ichiban nagai hi in 1967
Ryûji Kita and Seiji Miyaguchi have starred in 8 movies together. Their first film was Inochi uruwashi in 1951. The most recent movie that Ryûji Kita and Seiji Miyaguchi starred together was Gekido no showashi 'Gunbatsu' in 1970
Natsuko Kahara and Seiji Miyaguchi have starred in 8 movies together. Their first film was Nagareru in 1956. The most recent movie that Natsuko Kahara and Seiji Miyaguchi starred together was Bokuto kidan in 1960
Susumu Fujita and Seiji Miyaguchi have starred in 8 movies together. Their first film was Zoku Sugata Sanshirô in 1945. The most recent movie that Susumu Fujita and Seiji Miyaguchi starred together was Gekido no showashi 'Gunbatsu' in 1970
1 | 2 | 3 | 4 | 5 | 6 | 7 | 8 | 9