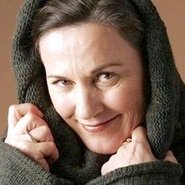 Teresa Madruga's filmography and actor connections
Teresa Madruga has starred in 52 movies. The 5 most recent movies Teresa Madruga was in are listed below.
Next is the list of 824 actors/actresses that Teresa Madruga has worked with spread over 42 pages. The list is sorted by the people Teresa Madruga has worked most frequently with. When you find the person you are looking for, click on the link to view a list of movies they have worked in together.
If you decide instead to click on a movie with Teresa Madruga, it will display the top billed cast. If the cast members have starred together in other movies; beneath the cast member a list will display.
---
Pedro Efe and Teresa Madruga have starred in 8 movies together. Their first film was Oxalá in 1981. The most recent movie that Pedro Efe and Teresa Madruga starred together was E se eu fosse lá abaixo rir um bocado? in 2004
Laura Soveral and Teresa Madruga have starred in 6 movies together. Their first film was Francisca in 1981. The most recent movie that Laura Soveral and Teresa Madruga starred together was Tabu in 2012
Diogo Dória and Teresa Madruga have starred in 5 movies together. Their first film was Francisca in 1981. The most recent movie that Diogo Dória and Teresa Madruga starred together was Visita ou Memórias e Confissões in 2015
João Lagarto and Teresa Madruga have starred in 5 movies together. Their first film was No Caminho para a Escola in 1998. The most recent movie that João Lagarto and Teresa Madruga starred together was Imagine in 2012
Carloto Cotta and Teresa Madruga have starred in 5 movies together. Their first film was Odete in 2005. The most recent movie that Carloto Cotta and Teresa Madruga starred together was As Mil e Uma Noites: Volume 2, O Desolado in 2015
Adriano Luz and Teresa Madruga have starred in 5 movies together. Their first film was Sapatos Pretos in 1998. The most recent movie that Adriano Luz and Teresa Madruga starred together was As Mil e Uma Noites: Volume 2, O Desolado in 2015
Luís Lucas and Teresa Madruga have starred in 5 movies together. Their first film was Alexandre e Rosa in 1978. The most recent movie that Luís Lucas and Teresa Madruga starred together was Tanto Para Andar Até Dormir in 2013
Rita Blanco and Teresa Madruga have starred in 4 movies together. Their first film was Ganhar a Vida in 2001. The most recent movie that Rita Blanco and Teresa Madruga starred together was Blood of My Blood in 2011
Ruy Furtado and Teresa Madruga have starred in 4 movies together. Their first film was Guerra de Mirandum in 1981. The most recent movie that Ruy Furtado and Teresa Madruga starred together was O Lugar do Morto in 1984
Luísa Cruz and Teresa Madruga have starred in 4 movies together. Their first film was Ilhéu da Contenda in 1996. The most recent movie that Luísa Cruz and Teresa Madruga starred together was As Mil e Uma Noites: Volume 2, O Desolado in 2015
Filipe Ferrer and Teresa Madruga have starred in 4 movies together. Their first film was No Speaking in 1983. The most recent movie that Filipe Ferrer and Teresa Madruga starred together was Pele in 2006
Luís Miguel Cintra and Teresa Madruga have starred in 4 movies together. Their first film was Silvestre in 1981. The most recent movie that Luís Miguel Cintra and Teresa Madruga starred together was Demain? in 2011
Cecília Guimarães and Teresa Madruga have starred in 4 movies together. Their first film was Francisca in 1981. The most recent movie that Cecília Guimarães and Teresa Madruga starred together was Ilhéu da Contenda in 1996
Ana Moreira and Teresa Madruga have starred in 3 movies together. Their first film was O Capacete Dourado in 2007. The most recent movie that Ana Moreira and Teresa Madruga starred together was Tanto Para Andar Até Dormir in 2013
Joaquim Leitão and Teresa Madruga have starred in 3 movies together. Their first film was O Lugar do Morto in 1984. The most recent movie that Joaquim Leitão and Teresa Madruga starred together was O Capacete Dourado in 2007
Manuel Wiborg and Teresa Madruga have starred in 3 movies together. Their first film was Kiss Me in 2004. The most recent movie that Manuel Wiborg and Teresa Madruga starred together was Je m'appelle Bernadette in 2011
Lídia Franco and Teresa Madruga have starred in 3 movies together. Their first film was Dans la ville blanche in 1983. The most recent movie that Lídia Franco and Teresa Madruga starred together was Je m'appelle Bernadette in 2011
Nuno Lopes and Teresa Madruga have starred in 3 movies together. Their first film was Quaresma in 2003. The most recent movie that Nuno Lopes and Teresa Madruga starred together was Blood of My Blood in 2011
Rogério Samora and Teresa Madruga have starred in 3 movies together. Their first film was Matar Saudades in 1988. The most recent movie that Rogério Samora and Teresa Madruga starred together was O Capacete Dourado in 2007
Luís Esparteiro and Teresa Madruga have starred in 3 movies together. Their first film was Demain? in 2011. The most recent movie that Luís Esparteiro and Teresa Madruga starred together was Imagine in 2012
1 | 2 | 3 | 4 | 5 | 6 | 7 | 8 | 9