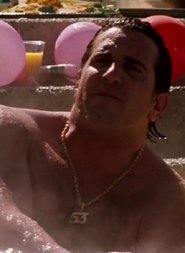 Tony Longo's filmography and actor connections
Tony Longo has starred in 67 movies. The 5 most recent movies Tony Longo was in are listed below.
Next is the list of 2561 actors/actresses that Tony Longo has worked with spread over 129 pages. The list is sorted by the people Tony Longo has worked most frequently with. When you find the person you are looking for, click on the link to view a list of movies they have worked in together.
If you decide instead to click on a movie with Tony Longo, it will display the top billed cast. If the cast members have starred together in other movies; beneath the cast member a list will display.
---
Taylor Negron and Tony Longo have starred in 4 movies together. Their first film was The Last Boy Scout in 1991. The most recent movie that Taylor Negron and Tony Longo starred together was Lloyd in 2001
Danny Nucci and Tony Longo have starred in 3 movies together. Their first film was Eraser in 1996. The most recent movie that Danny Nucci and Tony Longo starred together was Pizza with Bullets in 2015
Frank Welker and Tony Longo have starred in 3 movies together. Their first film was Pound Puppies and the Legend of Big Paw in 1988. The most recent movie that Frank Welker and Tony Longo starred together was Prehysteria! in 1993
Chloe Longo and Tony Longo have starred in 3 movies together. Their first film was Angels in the Outfield in 1994. The most recent movie that Chloe Longo and Tony Longo starred together was Mob HypnoTherapy in 2010
Scott L. Schwartz and Tony Longo have starred in 3 movies together. Their first film was The Flintstones in Viva Rock Vegas in 2000. The most recent movie that Scott L. Schwartz and Tony Longo starred together was Changing Hands Feature in 2012
Fred Lerner and Tony Longo have starred in 3 movies together. Their first film was Splash in 1984. The most recent movie that Fred Lerner and Tony Longo starred together was Rapid Fire in 1992
Justine Hong and Tony Longo have starred in 3 movies together. Their first film was Un-Employed in 2009. The most recent movie that Justine Hong and Tony Longo starred together was Cause We're Family in 2010
Christopher Lloyd and Tony Longo have starred in 3 movies together. Their first film was Suburban Commando in 1991. The most recent movie that Christopher Lloyd and Tony Longo starred together was Foodfight! in 2012
David Z. Stamp and Tony Longo have starred in 2 movies together. Their first film was Coiled in 2014. The most recent movie that David Z. Stamp and Tony Longo starred together was Intersection in 2015
Richard Moll and Tony Longo have starred in 2 movies together. Their first film was Think Big in 1989. The most recent movie that Richard Moll and Tony Longo starred together was Living in Peril in 1997
Gene LeBell and Tony Longo have starred in 2 movies together. Their first film was Rapid Fire in 1992. The most recent movie that Gene LeBell and Tony Longo starred together was Changing Hands in 2010
David Schramm and Tony Longo have starred in 2 movies together. Their first film was Let It Ride in 1989. The most recent movie that David Schramm and Tony Longo starred together was Big Packages in 1996
Antonio Fargas and Tony Longo have starred in 2 movies together. Their first film was Changing Hands in 2010. The most recent movie that Antonio Fargas and Tony Longo starred together was Changing Hands Feature in 2012
Fisher Stevens and Tony Longo have starred in 2 movies together. Their first film was Bloodhounds of Broadway in 1989. The most recent movie that Fisher Stevens and Tony Longo starred together was The Marrying Man in 1991
Bud Watson and Tony Longo have starred in 2 movies together. Their first film was The Emerald Sun in 2006. The most recent movie that Bud Watson and Tony Longo starred together was Til Death Does His Part in 2007
Jared Chandler and Tony Longo have starred in 2 movies together. Their first film was In the Mood in 1987. The most recent movie that Jared Chandler and Tony Longo starred together was Feds in 1988
Ralph Seymour and Tony Longo have starred in 2 movies together. Their first film was Fletch in 1985. The most recent movie that Ralph Seymour and Tony Longo starred together was Let It Ride in 1989
Brian Libby and Tony Longo have starred in 2 movies together. Their first film was Winners Take All in 1987. The most recent movie that Brian Libby and Tony Longo starred together was Eraser in 1996
Vincent Pastore and Tony Longo have starred in 2 movies together. Their first film was Serving Sara in 2002. The most recent movie that Vincent Pastore and Tony Longo starred together was Pizza with Bullets in 2015
Peter Gannon and Tony Longo have starred in 2 movies together. Their first film was Coiled in 2014. The most recent movie that Peter Gannon and Tony Longo starred together was Intersection in 2015
1 | 2 | 3 | 4 | 5 | 6 | 7 | 8 | 9