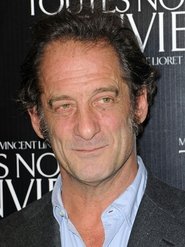 Vincent Lindon's filmography and actor connections
Vincent Lindon has starred in 63 movies. The 5 most recent movies Vincent Lindon was in are listed below.
Next is the list of 1962 actors/actresses that Vincent Lindon has worked with spread over 99 pages. The list is sorted by the people Vincent Lindon has worked most frequently with. When you find the person you are looking for, click on the link to view a list of movies they have worked in together.
If you decide instead to click on a movie with Vincent Lindon, it will display the top billed cast. If the cast members have starred together in other movies; beneath the cast member a list will display.
---
Gérard Darmon and Vincent Lindon have starred in 9 movies together. Their first film was Notre histoire in 1984. The most recent movie that Gérard Darmon and Vincent Lindon starred together was Les clefs de bagnole in 2003
François Berléand and Vincent Lindon have starred in 7 movies together. Their first film was Fred in 1997. The most recent movie that François Berléand and Vincent Lindon starred together was Je crois que je l'aime in 2007
Albert Dray and Vincent Lindon have starred in 6 movies together. Their first film was Tout ça... pour ça! in 1993. The most recent movie that Albert Dray and Vincent Lindon starred together was Je crois que je l'aime in 2007
Patrick Timsit and Vincent Lindon have starred in 5 movies together. Their first film was La crise in 1992. The most recent movie that Patrick Timsit and Vincent Lindon starred together was Chasseurs de dragons in 2008
Roschdy Zem and Vincent Lindon have starred in 4 movies together. Their first film was Fred in 1997. The most recent movie that Roschdy Zem and Vincent Lindon starred together was Filles uniques in 2003
Sandrine Kiberlain and Vincent Lindon have starred in 4 movies together. Their first film was L'irrésolu in 1994. The most recent movie that Sandrine Kiberlain and Vincent Lindon starred together was Mademoiselle Chambon in 2009
Jacques Gamblin and Vincent Lindon have starred in 4 movies together. Their first film was Il y a des jours... et des lunes in 1990. The most recent movie that Jacques Gamblin and Vincent Lindon starred together was Les clefs de bagnole in 2003
Marc Rioufol and Vincent Lindon have starred in 4 movies together. Their first film was Le septième ciel in 1997. The most recent movie that Marc Rioufol and Vincent Lindon starred together was Toutes nos envies in 2011
Charles Gérard and Vincent Lindon have starred in 4 movies together. Their first film was Il y a des jours... et des lunes in 1990. The most recent movie that Charles Gérard and Vincent Lindon starred together was Les clefs de bagnole in 2003
Anne Le Ny and Vincent Lindon have starred in 4 movies together. Their first film was Ma petite entreprise in 1999. The most recent movie that Anne Le Ny and Vincent Lindon starred together was Ceux qui restent in 2007
Richard Berry and Vincent Lindon have starred in 4 movies together. Their first film was L'addition in 1984. The most recent movie that Richard Berry and Vincent Lindon starred together was Les clefs de bagnole in 2003
Sophie Artur and Vincent Lindon have starred in 4 movies together. Their first film was Suivez mon regard in 1986. The most recent movie that Sophie Artur and Vincent Lindon starred together was La belle verte in 1996
Zabou Breitman and Vincent Lindon have starred in 4 movies together. Their first film was Suivez mon regard in 1986. The most recent movie that Zabou Breitman and Vincent Lindon starred together was Ma petite entreprise in 1999
Andrée Damant and Vincent Lindon have starred in 3 movies together. Their first film was Yiddish Connection in 1986. The most recent movie that Andrée Damant and Vincent Lindon starred together was La belle verte in 1996
Jean-Claude de Goros and Vincent Lindon have starred in 3 movies together. Their first film was Dernier été à Tanger in 1987. The most recent movie that Jean-Claude de Goros and Vincent Lindon starred together was La Baule-les-Pins in 1990
Nathalie Baye and Vincent Lindon have starred in 3 movies together. Their first film was Notre histoire in 1984. The most recent movie that Nathalie Baye and Vincent Lindon starred together was Paparazzi in 1998
Grégoire Colin and Vincent Lindon have starred in 3 movies together. Their first film was Vendredi soir in 2002. The most recent movie that Grégoire Colin and Vincent Lindon starred together was Les salauds in 2013
Marie-Sophie L. and Vincent Lindon have starred in 3 movies together. Their first film was Il y a des jours... et des lunes in 1990. The most recent movie that Marie-Sophie L. and Vincent Lindon starred together was Tout ça... pour ça! in 1993
Michel Galabru and Vincent Lindon have starred in 3 movies together. Their first film was Notre histoire in 1984. The most recent movie that Michel Galabru and Vincent Lindon starred together was Les clefs de bagnole in 2003
Pascal Leguennec and Vincent Lindon have starred in 3 movies together. Their first film was Fred in 1997. The most recent movie that Pascal Leguennec and Vincent Lindon starred together was Le frère du guerrier in 2002
1 | 2 | 3 | 4 | 5 | 6 | 7 | 8 | 9